It is very difficult, some would argue impossible, to be worse than 0-16. But, if the Browns do not address their needs properly, they will likely look even more inept in 2018. The Browns have glaring holes at virtually every position, but, they suddenly have one of the best front offices in the NFL. This is my free agent wishlist for the worst franchise ever, aka the Cleveland Browns.
Le'veon Bell, RB
With the likely denture of Isaiah Crowell, the Browns have a chance to haul in a significant backfield upgrade. Bell, fresh off of an All-Pro campaign, is set to become an unrestricted free agent after being vocal about his refusal to play under the franchise tag for the second straight year. The Browns have around $100M in cap space ready for use. Bell can become the focal point of the offense AND he can will be getting paid far more than he would with Pittsburgh. Please listen to me John Dorsey, the Le'veon Bell, Duke Johnson combo is a cheat code.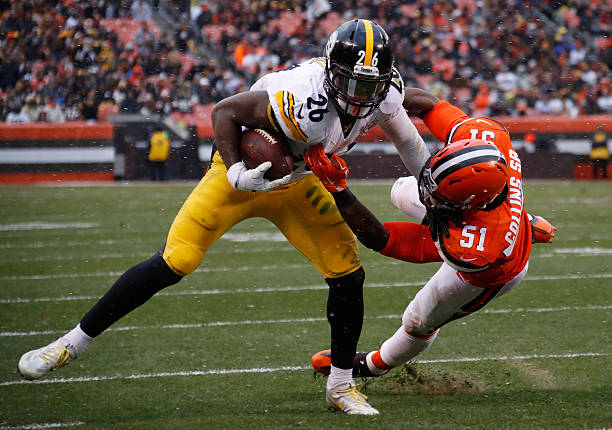 (Getty Images)
Terrelle Pryor, WR
The Browns desperately need help on the outside. With the exception of Josh Gordon (who is unreliable in his own special way), the receiving corps leaves a lot to be desired. It seems that the image of Corey Coleman letting a potential game breaking catch go through his hands will perfectly sum up his career. Seriously, that guy is a disaster and Sashi Brown drafted him over Michael Thomas…with his 200 catches in 2 seasons. Pryor makes plenty of sense. He has familiarity with Hue Jackson and he was the best player on the team in 2016. Even with his disappointing 2017 season, he is an immediate upgrade when thrown into duty with the likes of Gordon, Njoku, and Johnson.
(Akron Beacon Journal)
Sammy Watkins, WR
If the Browns cannot bring Pryor back to Cleveland, Watkins does not seem like a bad consolation prize. With his impending status as an UFA, and the Browns boatload of cash, this seems like a match made in heaven. When he is on the field, Watkins is a very effective weapon. He has strong hands with the game breaking speed to match it. In all likelihood, the Browns are going to draft a quarterback with the first overall pick, and that young man is going to need some weapons to throw the football to, and it is up to the front office to go get them.
(Bleacher Report)
Trumaine Jackson, CB
After watching every game of the 0-16 season, I think I can definitely say that the secondary play from this team is the worst I have ever seen. Jabrill Peppers was a disaster, and the corners seemed to be allergic to making plays on the football. Jackson would provide an immediate upgrade at the position, as he has been one of the most effective cover corners over the past few seasons. This is yet another scenario where the Browns have the money to solve a problem with a sure thing, as opposed to taking a risk in the draft.
While extremely unlikely (God would never allow it, it would make us too happy), anyone of these players provides a significant upgrade to a team that desperately needs it. A splash in free agency could provide the key ingredients  for a new Renaissance in Cleveland.  
As Always, GO BROWNS!
Follow the author on Twitter: @jdraime_10
Featured Image: Obsev