Joe Draime
The Cleveland Indians have finally taken command of the worst division in baseball. They survived the month of May, where their bullpen had an ERA over five. The pen has largely stabilized, but to be considered the World Series favorite they will need another arm and another bat. For those assets, look no further than Zach Britton and Manny Machado.
Andrew Miller is set to return in July, but a 3rd option will truly make the bullpen elite. Britton has been an elite reliever over the past 3 seasons and he would make the Indians virtually unhittable from the 7th inning onward.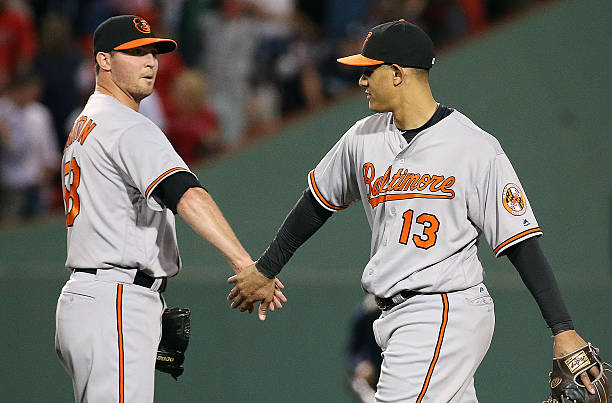 Image: (Getty Images)
The Cleveland lineup is one of the best in baseball. But Machado instantly makes them THE best lineup in all of baseball, and his Gold Glove caliber 3rd base defense is invaluable.
The top six in the order would be as follows: Lindor, Brantley, Ramirez, Machado, Encarnacion, and Alonso. That is without question the best top 6 in baseball.
In order to get these guys we have to be willing to give. Mejia or McKenzie would have to go, as would either a Bieber or a Plutko. Also, Bobby Bradley or Will Benson could find themselves in the mix as well. Some may argue (Drew) that selling off the farm for two rentals is stupid, but if you win a World Series doesn't that negate the loss? I personally believe so. I want championships and I want them now.
The addition of these two studs makes the Tribe the overwhelming favorite to win the American League, if not the World Series favorite. The combination of the best starting staff, three bullpen aces, and what would be the most dangerous lineup in all of baseball puts this Indians team over the top. Let's make it happen gents.
As Always,
GO TRIBE
Follow the Author: @jdraime_10
Featured Image: (USA Today)